Unfortunately for our industry there are numerous opportunities for scammers to try and take advantage of the general public in the form of rental housing scams. A&S Realty has even repeatedly been victim to our ads being hijacked, where scammers have been using our reputation and credibility to trick people into thinking they are working with one of our trusted agents. In this blog post we wanted to highlight some of the scams we have been finding, and what red flags to look for when searching online for housing.
Red flags
When looking at listings online, please keep an eye out for some of these common red flags.
Too good to be true
Generally speaking, if you come across a listing that looks "too good to be true" it generally is. I promise you that the $1,000 2 bedroom in Back Bay with garage parking and indoor swimming pool does not exist. Although these listings can seem tempting, use your gut instinct.
Always be prepared to do your own research on rental prices for apartments in the same location, similar size, and amenities to get a good idea of what rentals in a certain area should be renting for.
Hijacked listings
A hijacked listing is when a scammer will "clone" a trusted agency's listing. They will use the same photos, description, they may even use an agency's logo and likeness – but they may use a different email and phone number. A&S Realty has fallen victim to this type of scam. Our logo and name have shown up on fake Craigslist listings. We try our best to flag them as fraud, but as soon as one comes down another can pop up in its place.
Tip: If you see something listed by an agency on a free site such as Craigslist, do a quick Google search and see if you can find that same listing on that agency's own website. In most cases if we are advertising something on an online listing platform then we will also have it on our own site as well.
Immediate move ins
An immediate move in is not suspicious by itself. However, most apartments are listed 30-90 days before their intended move in date, and showings of apartments while occupied is common. Only a small number of apartments actually go truly "vacant", as in no one is living there. So, if an apartment is listed as "immediate move in" you should use a little more scrutiny. This is not to say that all immediate move ins are suspicious. If a unit is truly vacant there should be no reason you can't see it in person before applying.
Asking for money before filling out any paperwork
This one seems somewhat obvious, but if someone is pressuring you into paying a deposit on an apartment without so much as filling out a rental application or asking any qualifying questions this should be treated as a red flag. Our general leasing process would look like this:

Requiring deposits be sent in "non-traditional" forms of payment
No reputable agency will require a deposit via Western Union or gift cards. Most agencies and landlords will accept checks, ACH payments (such as DepositLink), cash, (with a receipt) or a wire transfer (Note: If sending a wire transfer you should always call the agency before sending to verify the account and routing information). Some are even starting to adopt newer options as well such as Zelle, Paypal, and Venmo – just make sure to verify the intended recipient before sending.
Poor grammar/punctuation/typos
Just like other online scams, be on alert for listings with poor grammar, typos, and punctuation. This can sometimes be an indication that the listing was put up by someone overseas. Professional landlords and agents will take the time to write compelling descriptions and proofread their work before putting the listing out to the public.
The person listing the apartment cannot meet in person
This scam has become increasingly prevalent during Covid times where many rentals have been done sight unseen. The person listing the apartment will make excuses as to why they can't show you the apartment in person such as:
They had to leave town unexpectedly.
There was a family emergency which is why they can't meet.
Using Covid as a reason to not meet in person.
They may use the current tenant being difficult as a reason for not allowing in person showings.
The biggest red flag of all is if the person listing the apartment is unable or unwilling to show it to you in person – DO NOT send them money.
Tip: If you are in a situation where you must rent something over Facetime or Zoom, ask your agent to start the call at the nearest intersection so you can see the street signs. Have them highlight the building entrance number as they walk in, and don't be afraid to ask questions! Our agents are excited and willing to help you get a full picture of the space/building/street!
They send you an incomplete or suspicious lease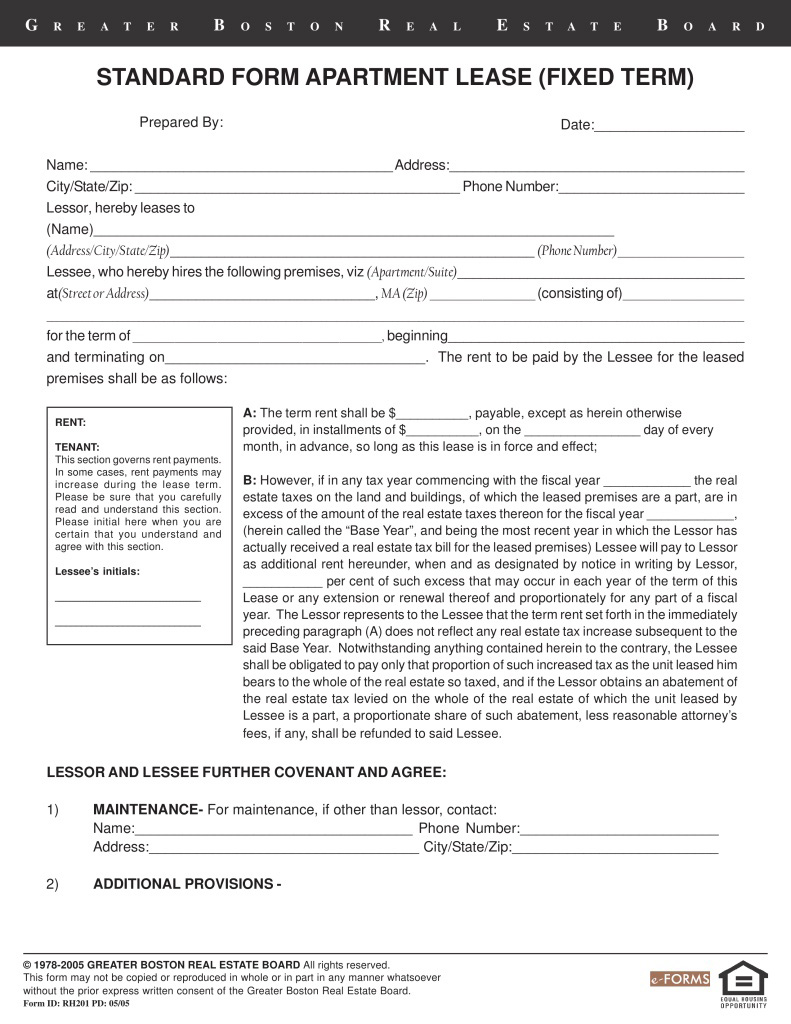 Most agents and landlords in Boston will use the Greater Boston Real Estate Board (GBREB) lease forms. This will be evident by a black bar at the top with "Greater Boston Real Estate Board" in the top margin. It is generally 4 pages long. We have a sample here. In addition, a Boston lease may also have several addendums and disclosure with it such as:
GBREB fixed term lease (4 pages)
Tenant lead law notification form (4 pages – required for any property built before 1978)
Landlord or management company's addendum (optional 1-4 pages)
Condominium addendum (optional)
No-smoking addendum (optional)
Mold addendum (optional)
Insect addendum (optional)
Security deposit receipt & condition statement (only if taking a security deposit 2-3 pages)
The lease must also clearly spell out the property address, a description of the property, & the landlord's full name and contact info. We have seen some fake leases that just have a fake name and no contact information – this would be a red flag.
How to protect yourself
The best way to protect yourself from a scam is to know the red flags outlined above, but also do a little homework yourself. There are a few simple things you can do to validate a rental listing.
First, go to the city of Boston's apartment scam page. Here you will find links to some city databases where you can validate certain information like who the legal owner of a property is, as well as if it has been registered as a rental property with inspectional services.
Other things you can do:
Tip: Sites that charge landlords or agents to post apartments are generally safer than "free" sites, such as Craigslist. A&S Realty does a lot of advertising on Zillow, Trulia & Hotpads which are paid listing sites.
Suspect a scam?
What do you do if you think you've uncovered a rental housing scam?
Don't hesitate to walk away from something that seems suspicious. Trust your instincts.

---
Featured Sales Listing
Featured Rental Listing
---
Most Recent Posts
---
Most Popular
---
Subscribe & More
Like us on Facebook to be notified of new posts!
Find Your Home