Updated Sept 29, 2017
As a resident of downtown Boston, I am constantly looking for services offered around the city that make my life easier. Grocery delivery is one of these services. Even though I can't cook to save my life, I (thankfully) married someone that can. And he, decidedly, does not want to eat take-out for breakfast, lunch, and dinner so someone needs to do the grocery shopping.
Grocery shopping has greatly evolved since I first moved to Boston a decade or so ago. My first grocery shopping outing ended poorly as I attempted to schlep a week's worth of groceries from Star Market to Comm. Ave. in the Back Bay. As I naively loaded bag after bag of groceries into my arms, I thought..."I got this!" Guess what? By the time I hit Boylston St., I was a hot mess, my arms were numb, and I didn't have this. From there on out, I instated a 2 bag maximum rule.
Cut to a few years later, and someone (much smarter than me!) decided to offer grocery delivery services to the city of Boston. This means no lines, no schlepping, and I can grocery shop anywhere at anytime.
The three delivery services that I've used are Peapod, Roche Bros., and Amazon Fresh. Each of these delivery services have their pros and cons. I don't claim to be the expert on every grocery delivery service, but as a real estate agent and mom to a toddler, I am someone who regularly lacks sleep, extra time, and seeks a good deal. Grocery delivery is magical!
Service Cost Comparison
The frequency of your orders within any given month should also be a consideration.
Monthly Cost
$14.99/mo
(with a Prime Membership)
NONE
NONE
Delivery Fee
FREE
($40 min)

$9.95
(orders < $40)
$9.95
($60 min)

$6.95
($100 +)
$9.95
(no min)
Delivery Speed
Same Day*
(varies by item)
Next Day
Same Day*
(when available)
Tipping
Encouraged
Encouraged
NONE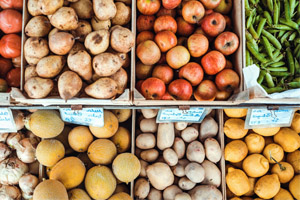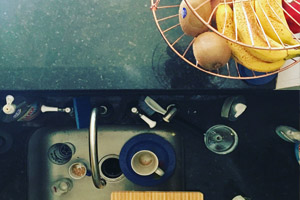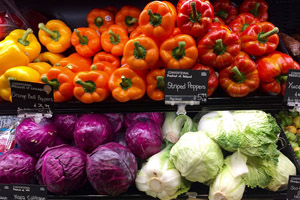 Amazon Fresh is a "newer" delivery service available in Boston. In full disclosure, I've only recently started using this service and I was offered a $25 credit toward my first order of $100+ as a Prime member. Currently, I have a 30 day trial allowing me to forego the delivery fees. After the 30 day trial ends, I can receive deliveries over $40 for a flat fee of $14.99/month. Any orders under $40 will incur an additional $9.99 charge. For the first few orders I received, I was unsure of the tipping policy for Amazon Fresh. The drivers dropped and dashed leaving me to believe that there was not a tip expected. However, my delivery driver recently offered to take my cold items out of the cooler they were packed in (more on the coolers later). It gave me a chance to ask about the tipping policy and Fresh drivers may accept tips.
One big benefit to Amazon Fresh is that some items can be delivered same day. If you choose your delivery window prior to shopping, each item will display an available date/time for delivery. Amazon stores your previous orders so you don't have to start from scratch each time you need to put together an order.
As a regular user of Amazon, I was excited to use their grocery delivery service. I may have been quoted in the past as saying, "If it's not on Amazon, I don't need it." Unfortunately, my first delivery was disappointing and, from reading other reviews, not unique. 6 of 12 eggs arrived cracked (though my husband has a theory that the eggs had particularly thin shells may have been destined to crack). In addition, we discovered that one full bag of groceries was not delivered. I made a quick call to Amazon and the customer service agent apologized and refunded our money for the eggs & missing items. She also gave me an additional $25 Amazon Fresh credit to give them another chance. Amazon has great customer service and it was totally painless. I gave them another chance the following week and everything was delivered and in good condition.
I've ordered a variety of produce through Amazon Fresh. The produce did not disappoint. Cold and frozen items are delivered in soft carry coolers. You can choose to have an unattended delivery if you're not planning to be home and have a secure place for the groceries to be left. My biggest dilemma is what to do with the coolers post-delivery. Amazon Fresh drivers will pick them up with your next delivery, your can schedule a pick-up through the website, you can toss them, or reuse them. We live in just under 900 sq. ft. so having coolers with no storage is a dilemma and I was so appreciative of the driver mentioned above that took the initiative to ask if I wanted him to take the cooler back. If you're not that lucky, there's a man named Doug on the interwebs that has devoted a YouTube tutorial to breaking down and storing these coolers. Thanks, Doug.
Use promo code FALL5 for $5 off your order of $75 of more*
*Limited time offer valid October 2, 2017 - October 22, 2017 or when all promotional codes are claimed, whichever is earlier. See amazon.com/fall5 for complete details.

Peapod by Stop & Shop was the first delivery service I used. They often offer promo codes to reduce or eliminate their delivery fees (FREE is always good!) which otherwise range from $6.95 to $9.95 based on the cost of your order. Peapod offers new customers $20 off their first order and 60 days free delivery. Depending on the size of your household, it may be worth noting that there is a minimum order amount of $60. Deliveries can be scheduled 24ish hours in advance or more. Did I mention that they deliver directly into your kitchen? I'm looking at you -- dweller of the 4th floor walk-up. Make sure you tip well!
Your orders are saved so you can add and subtract from previous orders to save time from week to week. When ordering your items, you can check off whether you prefer a similar replacement item (or not) if your selected item is not available. On the downside, if you need a specific ingredient and receive your items only to find that this item was out of stock, you may find yourself running out to a grocery store after your delivery.
In regard to service quality, I have always found Peapod's deliveries to be timely. On the one occasion that the delivery driver was unable to meet the previously scheduled time, I received a phone call from the company to give me a heads up that the driver was running behind. I so appreciated this courtesy. You may also return items within 30 days of delivery by calling customer service and returning through a Peapod delivery driver. I'm not sure how this policy plays out in real life if you're trying to reconnect with a driver over some over-ripened fruit. In the past, I've just cut my losses.
In regard to quality of goods, our items have always been delivered undamaged. The produce delivered has sometimes been at or past its peak. My resident chef (husband) is quite particular about the quality of the chicken he cooks with. On the few occasions we have ordered boneless chicken breasts from Peapod, he found that he prefers the quality of the options at our neighborhood market.

Roche Bros. started a delivery service in 2005. They offer delivery for a flat $9.95 fee per delivery with no tipping allowed. Roche Brothers seemingly does not have an order minimum. This is great if you don't need a full week's worth of groceries, but don't have time to get to the store. As with Peapod, you need to plan ahead and schedule your delivery window a day in advance. Deliveries from Roche Bros. are also brought directly into your kitchen.
Roche Bros. also stores previous orders so you do not have to start from scratch every week. The customer service at Roche Bros. takes the additional step of calling their customers if they are out of a particular item so you can choose whether or not you would like a replacement. This was a big selling point for me as someone who lives with two food critics (read: picky eaters).
The delivery service from Roche Bros. has been overall, very good. On one occasion, I did have one driver ask for a tip which was a bit unexpected given their "no tipping" policy. On another occasion, a delivery driver sat on my kitchen floor and played matchbox cars with my toddler, occupying him, while I put away my groceries. Impressive.
Roche Bros. quality of items has overall been consistently good. With the exception of a couple loaves of smushed bread (smaller bread slices = less carbs, right?), items arrive in good shape. We've been very happy with the quality of the produce. While my husband still prefers our local market for chicken breasts, we do get rotisserie chicken on occasion and it has always been very good. Though we've never needed to use this policy, Roche Bros. does offer a "double your money back" guarantee if the quality of their products are not up to par.
Use promo code FRESH2U for free delivery on your first order*
*Valid only for new customers. Limited time offer expires November 17, 2017
Grocery Price Comparison
While there's no service that offers the lowest priced items across the board, there are (somewhat significant) price difference between items. It is worth noting that all of these services offer sales and will accept coupons upon delivery.
Item
Hass Avocado
(1 lg avocado)
$1.89

$1.50

$2.50
Cheerios
(12oz. box)

$2.89

$3.99
$3.99
Jif Creamy Peanut Butter
(16oz. Jar)

$2.49

$2.99
$3.39
Hood Milk (Whole)
(1 Gallon)
$4.79
$4.79

$3.89

Land O'Lakes Butter
(4 sticks)
$4.49
$4.99

$4.29

Sargento Off the Block Shredded Mozz.
(8oz.)

$3.00

$3.00

$3.69
Applegate Farms Sunday Bacon
(8oz. ~8 Count)

$4.47

$5.79
$5.99
Annie's Cheddar Bunny Crackers
(6oz. 6 packs)
$4.49

$4.39

$5.69
Chobani Blueberry Yogurt
(4 pack)
$4.33

$3.99

$4.59

Which grocery delivery service gives you the best value? That's for you to decide.

---
Featured Sales Listing
Featured Rental Listing
---
Most Recent Posts
---
Most Popular
---
Subscribe & More
Like us on Facebook to be notified of new posts!
Find Your Home