"When's the best time to start looking for an apartment in Boston?" This is actually a question that we get asked A LOT. And it's a very smart question to ask because Boston's rental market is unique and the answer to that question will rely heavily on what month(s) you need to move on. For certain months of the year (January, June, September to name a few) you'll need to get an early jump on your search; in some cases up to 6 months or more ahead of time (yes, 6+ months!) We've studied the data and the market trends and put together this month by month guide to help you figure out when to start looking.
The September 1st Cycle
You may have heard about Boston's September 1st lease cycles that a lot of the apartments operate on. There are over 100 colleges & universities in the greater Boston area, most of which start classes the first or second week of September. As a result of the semester schedules (and partly because of our climate), landlords took note of the demand for September apartments and thus the September rent cycle was born. Most private apartments operate around this cycle.
Tip: For the best selection of apartments try to plan for a 9/1 move in date if possible.
High Rises
Most of the information that we offer below pertains to brownstone or private owner apartments. High rise or complex style apartments typically stagger their leases so that they don't all turn over on one day. For this reason most high rises have adopted a 60 day renewal policy, which means that they know which apartments are turning over 60 days before your move in date. If you are looking for a high rise property you can tour the property as early as you want, and then get onto a wait list for a particular date (apartments will often be nearly identical from one floor to the next in this type of property). Not sure if high rise apartments are for you? Take our high rise vs. brownstone quiz!
Planning Your Visit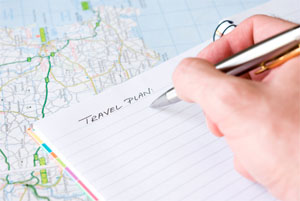 If you cannot arrange to take a trip to Boston to view apartments in person your rental agent can help by taking pictures and video tours for you before committing to an apartment from afar. We usually advise against renting "site unseen", and prefer that you come to look in person, however we understand that sometimes circumstances do not allows allow for a visit. If you do go the site unseen route we would also recommend having a friend or family member view the apartment on your behalf (if possible).
Assuming that you are able to plan a trip to view apartments, we recommend budgeting at least a week. The average rental (once you've identified a property that you want to apply for) takes between 48-72 hrs to finalize. If you only give yourself a weekend you may leave not knowing if your application has been approved and/or whether you have actually secured the apartment.
If you want to see a bunch of apartments back to back then the best time to plan is Monday through Friday from 9am to 5pm. We understand if you work days it's more convenient to see places after work or on weekends, however a lot of management companies that hold keys to apartments are not open past 5pm or on weekends, so it will limit the number of places you will be able to see in one trip.
See also: Get prepared: What do you need to rent an apartment in Boston?
So, when should you start looking?
This brings us to what you really want to know, which is "when should I start?" Here is when we think you should begin your search, based on your move in month:
60-90 days before
January is when colleges have a break in semester, so often times students are looking for January semester rentals. For this reason it's better to get an early jump on January.
30-45 days before
February is not a high turnover month, so you don't need to start that early.
30-45 days before
March is not a high turnover month, so you don't need to start that early.
30-45 days before
April is not a high turnover month, so you don't need to start that early.
45-60 days before
May apartments are becoming increasingly more popular, so it's best to start a little earlier than the 30-45 day rule for this month.
60-90 days before
June is the 2nd largest turnover month next to September. A fair percentage of apartments run on a June to June lease cycle, so often times June apartments can pop up months ahead of time.
60-90 days before
July is a popular month for renters. Some specialized schools start their programs in July which can bring out a bunch of renters, but usually there is low inventory. To get a good jump on the July market it's best to start earlier so you can beat the competition.
60-90 days before
Most people who want a jump on September apartments ask for an August move in. The reality is that there typically isn't that much inventory for August, so if you can push to a September move in you'll probably have better luck. Otherwise, start your search early so you don't miss any August units.
Up to 180 days before
September is by far THE MOST POPULAR month in Boston to rent an apartment. Most schools (and Boston has a lot of them!) start classes the first or second week of September, so there is always a huge demand for September 1st apartments. Typically the student apartments will come out first, followed by the rest of the inventory. If you're a student you should start on the early side (Jan/Feb/Mar), but if you're not a student you can probably start looking a bit later (Mar/Apr/May).
30 days before
Almost all of the available apartments for October were also available for September, but didn't get rented. You should start your October search on September 1st.
30-45 days before
November is not a high turnover month, so you don't need to start that early.
30-45 days before
December is not a high turnover month, so you don't need to start that early.
Other Helpful Tips & Info
October is the best month for scoring a "deal" on an apartment. Sometimes apartments don't rent for September 1st and owners are willing to make deals to secure a tenant by October 1st.
By this same logic, the busier the month the less likely you are to get a "deal".
Vacant apartments don't always mean you will get a better deal, especially if the owner still has someone on lease paying the rent.
The majority of apartments in Boston come available for September 1st. If you can make a September 1st move work, do it. You will have more options to see.
Students with 9/1 leases usually know much earlier on whether they will be renewing their lease or not, therefore 9/1 student apartments usually hit the market first, followed up later in the spring by the rest of the 9/1 inventory.
Apartments are almost never available earlier than their advertised availability date. Usually this is because someone is still on lease, so try to stick to viewing units that are advertised for when you actually need to move in.
If you can, plan to make a trip to Boston mid week vs. the weekend. Most people want to see things on weekends which is when agents are the busiest. If you can look mid-week you won't feel as rushed and might have better options to see.
If your agent sends you options a week or more in advance of your visit, those options may not still be available by the time you arrive. Boston apartments rent quickly, so it's best to come up with your list of potential options 1-2 days ahead of your visit.
In most cases the apartments you will be seeing won't be available for another month or more in advance, so there are often going to still be tenants living there which will require advanced notice for showings.
Ready to start looking for a new apartment?

---
Featured Sales Listing
Featured Rental Listing
---
Most Recent Posts
---
Most Popular
---
Subscribe & More
Like us on Facebook to be notified of new posts!
Find Your Home