When I first started in real estate in 2007 things were very different. Paperwork was done on actual paper. Locks were 'dumb', data was hard to find or decipher, and things like drones and virtual showings didn't exist yet. We even did leases on a typewriter with carbon paper (yes, in the internet age). But in just 10 years technology has completely shifted the real estate market.
In this blog I want to highlight some of the areas that technology has impacted the Boston real estate market the most.
The Internet
Although the internet has been around since the 80's, real estate hasn't really caught on to the internet until more recent times. Sure, things like email and websites changed how agents marketed and communicated, but there is a whole other sector of the internet that reshaped our market.
Data, data, data
One example is the large real estate data sites (like the one that rhymes with "pillow"). A National Association of Realtors study recently found that 44% of buyers went online to look at properties for sale as the first step of their home buying process. There is a slew of data on these sites which is great for consumers. With one click buyers can see tax info, estimated mortgage and utility costs, neighborhood info such as schools and public transportation routes, & more. Research that used to require trips and clicks to multiple sources is now compiled in a single website. Want to know what it's like to look at the house from the perspective of standing out front? No problem, just use Google Street View. More interested in seeing the terrain surrounding the house? You can easily pull up a satellite image or even a 3D flyover using Google Maps. In some cases buyers can know more about a property than the seller may even know!

Electronic record keeping
The internet has also changed how the state of Massachusetts handles record keeping. Deeds are now electronically recorded and searchable online. There is no longer a need to go to your county's registry of deeds to look up book and page numbers in physical books. Now a quick search online will yield you the documents you need. Interestingly enough, when you purchase a car you receive the original title to the vehicle, which is your proof of ownership. In real estate that proof of ownership is your deed, but Massachusetts doesn't give you a fancy frame-worthy paper deed anymore. Everything is electronic now.
Other facets of the internet have changed the real estate landscape as well, such as FaceTime, photography, videography, etc. But more on that later...
Photography, Video, & Augmented Reality
One of the greatest advancements in real estate technology is in the visual fields. Technology has made searching for a house more beautiful than before. When I first started as a rental agent we rarely had photos of apartments to show clients prior to taking them out to view them. It didn't make financial sense to hire professional photographers for rental listings, and we didn't have iPhones with HD cameras in our pockets at all times. Now our phones can take gorgeous photos, and we have it in our pocket all the time. This makes listings look better, and the internet as a whole has seen a huge boom in amateur real estate photography. Obviously we still bring in professional photographers for many sale listings, but the rental market in particular has seen a lot better apartment photography. Now, when searching for a rental, having photos of the place is pretty much the norm.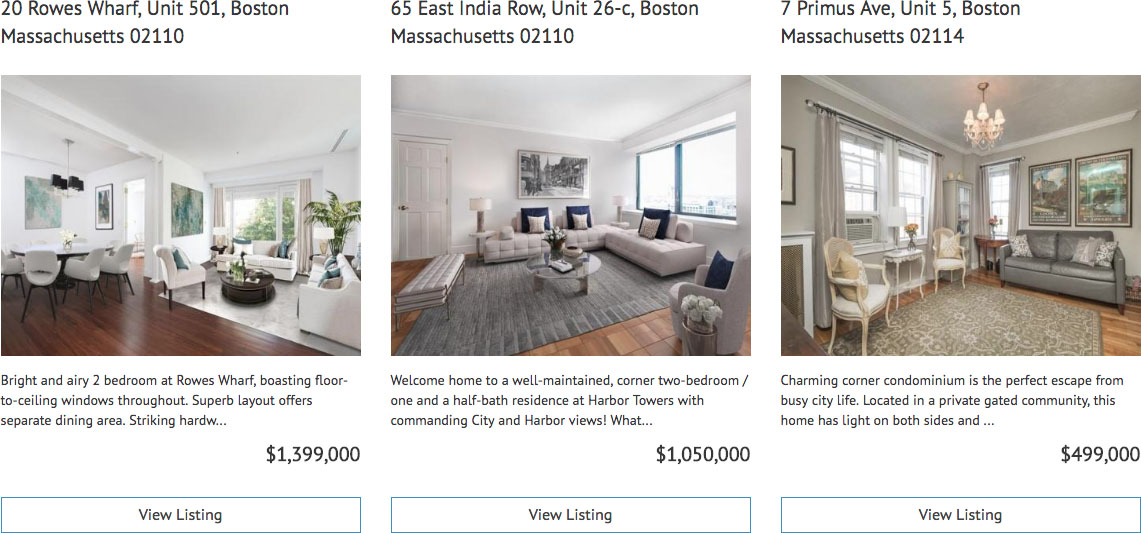 Virtual Showings
Remember that smart phone in my pocket and how it takes great apartment photos? Well, it also does HD video and FaceTime as well. When working with relocation clients we would recommend that they make travel plans to come to Boston to view properties in person. But with today's tech we can shoot a video for our clients, or even better, get them on FaceTime for a "virtual showing". This gives our clients the ability to navigate us to the areas they want to see most, and focus on the areas of a property that are important to them. "Can you go back to the kitchen, I want to see the type of lighting on the ceiling?" is now as simple as going back to the room and pointing the camera up. It gives clients the capability to be in the driver's seat, which is much more immersive than just a static video. We can now go back, turn around, look up, whatever the client needs. Of course we always prefer that you make a trip in person, but FaceTime and videos have greatly increased our 'sight unseen' business. Sometimes it is too cost prohibitive to travel out to Boston, so this is the next best thing.

Drones
Taking photography and videography one step further we are now seeing a lot more drone imaging as well. Drones can create cinematic videos of properties that are unprecedented, gripping, and outright stunning. What better way to show off a waterfront property than to swoop in from a bird's eye view over the coastline? Not sure what I'm talking about? Here's an example of how drones are changing videography:
Virtual Staging
Lastly, augmented reality (AR) is now making it's way into real estate prime time. Companies like Virtual Staging Solutions are offering products such as "virtual staging". Virtual staging takes a photo of your property and uses AR to place true-to-scale furniture in the room. It's a fraction of the cost of traditional staging, and the results are phenomenal. Just check out this before & after, keeping in mind that it was all done on computer.

Smarter Homes
Smart features are now selling points for houses. We are now seeing Nest smart thermostats showing up in listings as an amenity. Houses can "sense" when occupants are home and adjust the temperature accordingly. They can also "sense" when you leave, and turn it back down as well. We are also seeing a lot more smart locks, the type that are controlled by WIFI or Bluetooth, or can be unlocked with a 4 digit code. These provide a more high tech (and arguably more secure) alternative to traditional lock boxes. For about $200 you can now get WIFI controlled cameras that detect movement and record video automatically, and then send the footage to your phone. These cameras can provide a useful security system for homeowners, plus as real estate agents we are frequently being watched (::cough cough:: Big Brother). Personally I don't mind it, but I can see how it can make some people uncomfortable. Other smart home gadgets on the market are intelligently controlled lighting, door & window sensors, motion sensors, leak sensors, and even smart kitchen appliances. I think going forward we will see a lot more smart features showing up as listing amenities.

Home Inspections
Home inspectors have also benefited from new technology. It used to take days to get home inspection reports back, which would hold up negotiations in a deal. They would take their notes and photos, then go back to their office and compile a report and either fax or sometimes snail mail it over to the client. I'm now seeing more and more inspectors using iPads to conduct inspections. They will take photos right through the app, use Siri to dictate their notes, and by the end of the inspection the client is leaving with a .pdf copy of the report in their email. It's almost instantaneous.
Inspectors have also picked up some other nifty tools lately. Some inspectors are offering thermal imaging cameras which allow them to do an analysis of the energy efficiency of a home by scanning exterior walls. The thermal camera will light up spots where heat is escaping or drafts may occur.
For testing basements and attics I've seen moisture meters being used as well. All an inspector does is touch the 2 metal prongs to a surface and it will read the moisture content. This can be super helpful in early detection of foundation or roof leaks, as well as identify if leaks have been "covered up".

Paperwork
I suppose it's hard to call it "paperwork" anymore when it's rarely done on actual paper. Technology has completely streamlined the signing process. Companies like Docusign offer our clients the ability to eSign paperwork such as leases and contracts. Getting 3 original signatures on a 3 bedroom lease used to require expensive overnight mailing from one tenant to the next until all 3 signed and was then mailed back to our office. If it was executed perfectly we "might" get the signed lease back in a week. Or, we would need to coordinate 4 people's schedules to come to the office in person to sign, which was almost impossible. Now with products like Docusign clients can sign right on their phones with their finger, at their own pace. No more expensive overnight mailing fees. No more lengthy in-person signings. We now get most leases signed within a few hours!
Technology has also made it increasingly easier for landlords and lenders to get credit reports from applicants, complete with FICO scores. Credit reports can be pulled in minutes giving a complete financial picture of an applicant. The entire loan/leasing process has begun shifting towards putting more weight on credit scores vs. an applicant's income.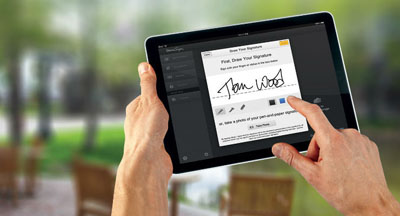 Tech Challenges
Although I would argue that technology as a whole has moved the real estate market in the right direction, and has greatly helped consumers by giving them more access to data and tools, there are some drawbacks that I must point out.
The first is that technology has made it increasingly easier for people to become real estate agents. What do I mean by this? In the age of digital signatures, email, text, etc. agents can now work from essentially anywhere (like, say, a Starbucks) without needing much more than a laptop and a cell phone. In just the last 10 years I have seen the number of real estate agents on Newbury Street more than double...and we are NOT all the same. These days anyone can have a flashy website with nice photos, but that's not what real estate is. Real estate is primarily about knowledge and relationships. The knowledge to help our clients, and the relationships to help bridge those connections. These are things that a website or a smart phone cannot teach. As the pool of agents grows larger and larger it becomes that much more important to seek assistance from those of us that eat, sleep, and breathe our markets. Using an agent with firsthand knowledge of your area(s) puts you at a huge advantage, and utilizing an agent with the experience and knowledge to help you navigate (and close) that transaction is just as important.
Secondly, one challenge we face as real estate agents are the "estimates" that big real estate websites give for home values. We are constantly reminding our clients that online estimates (and often city/town assessed values) do not reflect a property's actual market value. Have these estimators actually stepped foot into your property? Without having seen your property in person how could they possibly make accurate assessments of value based on condition, improvements, necessary repairs, etc.? The best thing you can do is to work with an experienced and knowledgeable agent who can pull comparable sales data and look at market conditions to determine your value, not just an estimate on a national real estate mega site.
Lastly, privacy concerns. As more and more information becomes electronically available it creates more opportunities for that information to fall into the wrong hands. At A&S we care very deeply about our clients' personal information and we take numerous measures to protect it. This is just another reason you should consider working with a trusted agency. Buying or selling a home is a huge transaction, probably the biggest you will make in your life, so stick with the best!
Conclusion
Think you have something to add to this list? Want to talk tech? Real estate? Drop me a line at [email protected] and I'd be happy to hear your input!

---
Featured Sales Listing
Featured Rental Listing
---
Most Recent Posts
---
Most Popular
---
Subscribe & More
Like us on Facebook to be notified of new posts!
Find Your Home